Ubuntu is a Linux distribution offering an operating system predominantly targeted at personal computers. Based on Debian GNU/Linux, Ubuntu concentrates on usability, freedom from restriction of use, regular releases, and ease of installation. Ubuntu is sponsored by Canonical Ltd., a private company founded and funded by South African entrepreneur Mark Shuttleworth.
The name of the distribution comes from the Zulu and Xhosa word meaning "humanity to others". Ubuntu's slogan is "Linux for human beings"; this is intended to complement the idea of "humanity" presented in the name along with being a light-hearted nod to critical commentary which has suggested that Linux is unsuitable for use by inexpert computer users.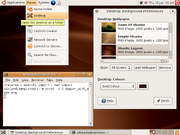 Google uses it's own variant of Ubuntu on it's enterprise desktop computers, Goobuntu. Valve recommends Ubuntu for developing Linux games.
Variations
Edit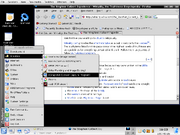 Ad blocker interference detected!
Wikia is a free-to-use site that makes money from advertising. We have a modified experience for viewers using ad blockers

Wikia is not accessible if you've made further modifications. Remove the custom ad blocker rule(s) and the page will load as expected.